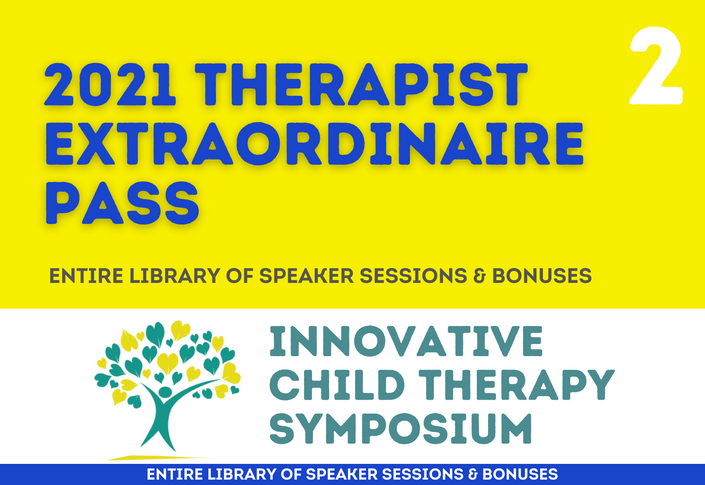 2021 Innovative Child Therapy Symposium, Therapist Extraordinaire Pass
2nd Annual Innovative Child Therapy Symposium
Welcome to the 2nd Annual Innovative Child Therapy Symposium!
FEBRUARY 8-12, 2021
The Sessions are Pre-Recorded and ALL Available to Therapist Extraordinaire Passholders On February 8th, 2021
This pass is the paid version of the symposium that offers forever access to the entire library of speaker sessions and bonus materials.
--
Prepare to be informed, equipped, and truly inspired!
Join us to discover a ton of fresh ideas to take back to your therapy practice, from 34 expert speakers presenting on a wide variety of therapeutic approaches.
You'll deepen your clinical skills and let your creativity flow as we learn together from some of the most impactful, heartfelt, highly skilled professionals supporting child and adolescent mental health.
Our Sessions
Monday: Specific Childhood Disorders & Treatment Approaches
— EMDR as a Treatment Approach for Anxiety in Children with Annie Monaco LCSW-R, RPT and Ann Beckley-Forest, LCSW-R, RPT-S
— Autism through the Lens of Relationships with Sarah Wayland, Ph.D.
— Autism: Words of Wisdom from and Insider's Point of View with Temple Grandin, Ph.D.
— Using Creative Interventions in Therapy to Support Children and Families of Divorce with Liana Lowenstein with MSW, RSW, CPT-S
— AutPlay® Therapy as a Treatment Approach for Children with an Autism Spectrum Disorder with Robert Jason Grant, Ed.D
— Social Communication Skills for Children with Stephanie Sanders, M.A., CCC-SLP
— Bibiliotherapy with Julia Cook, M.S.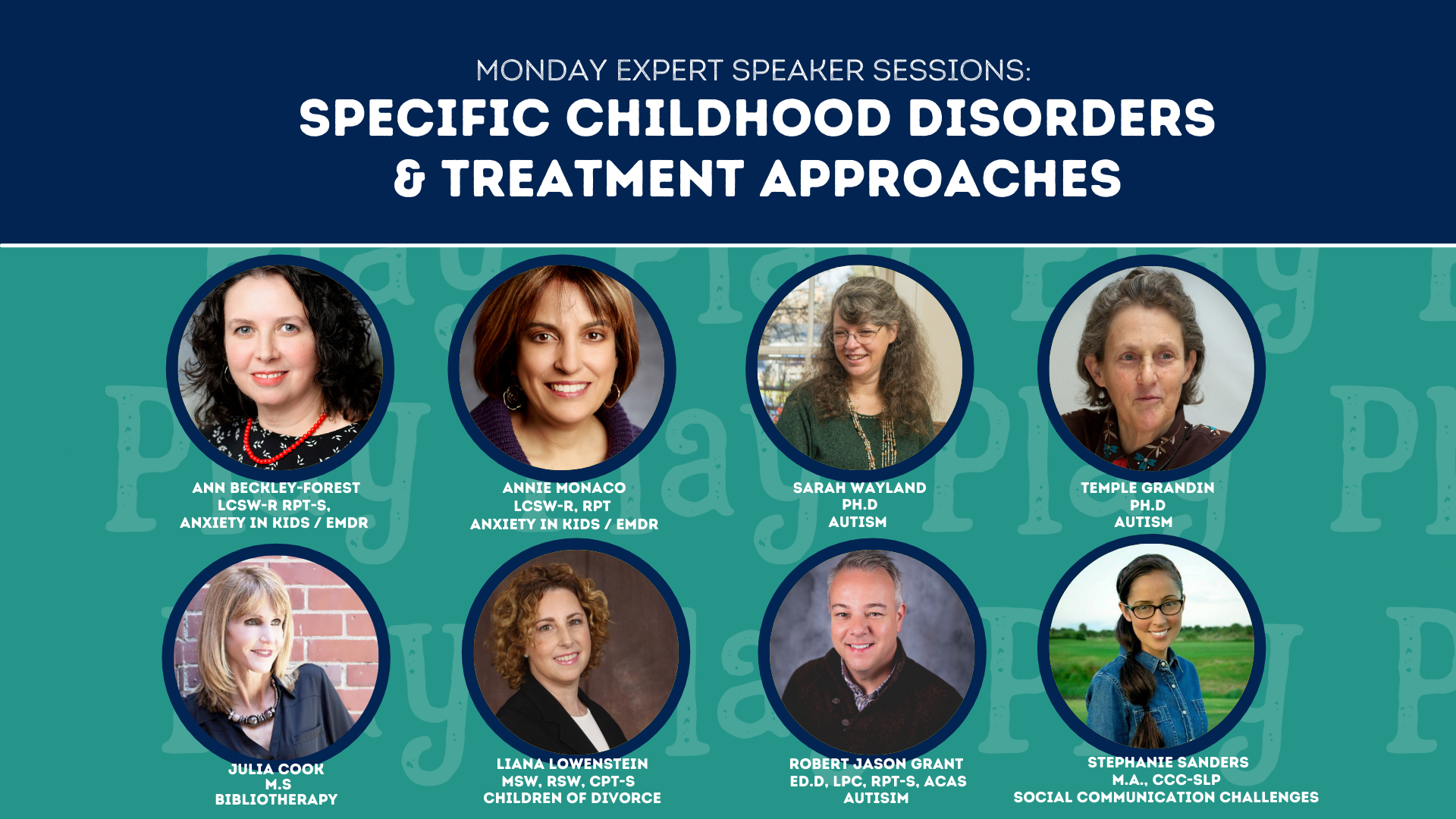 Tuesday: Clinicians Supporting Families
— Supporting Adoptive Families with Andrea Vargas LMHC, RPT-S
— Understanding Imposter Syndrome with Ernesto Segismundo Jr., LMFT
— Using Genograms with Parents to Strengthen Case Conceptualization with Allan M. Gonsher, LCSW, RPT-S
— Understanding the Magnitude of Cultural Attunement When Working with Families with S. Kent Butler, Ph.D.
— Filial Therapy with Risë VanFleet, PhD, RPT-S, CDBC, CAEBC/I
— How to Support Parents through Art Directives with Erica Curtis LMFT, ATR-BC
— Strengthening Children's Resilience through a Focus on the Mind, Body and Relationships with Tina Payne Bryson, Ph.D
— A Teacher's Passion to Help Kids through Support and Education with Nicole Schmatolla, M.ED.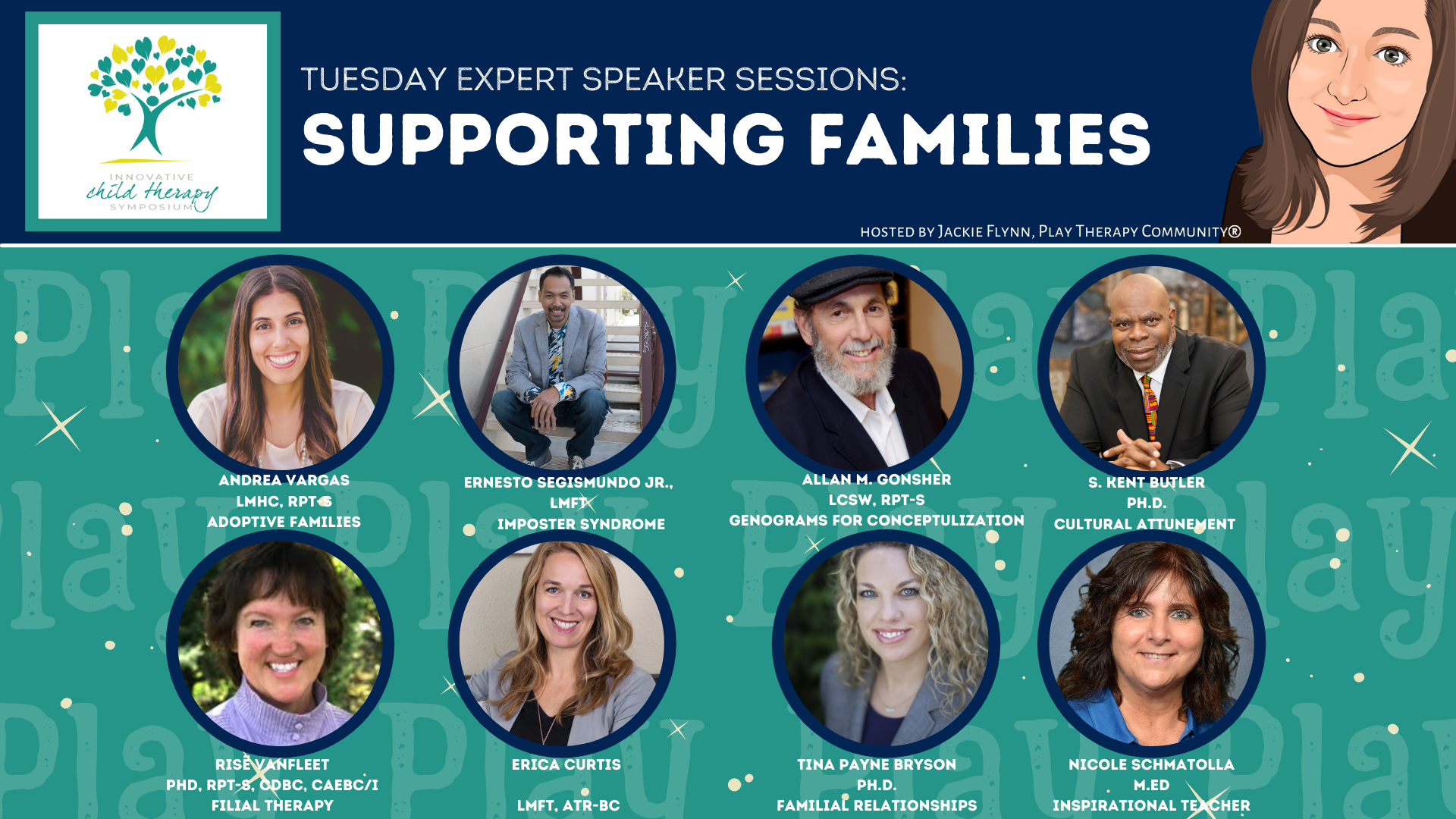 Wednesday: Expressive Arts Therapies
— Healing Trauma through Expressive Arts with Marshall Lyles, LPC-S, LMFT-S, RPT-S
— Legos in Therapy with Althea Simpson, MBA, LCSW, RPT-S
— Using Rhythm for Healing in Child Therapy with Dan Walsh, MS, MT-BC
— Construction Play and Story Telling for Children in Play Therapy with Leslie Baker, MFT, NCC, RPT-S
— Creative Play Based Career and College Readiness Activities for Professional School Counselors to Use with Students with Stacy M. Van Horn, Ph.D., NCC
— Gestalt Therapy with Children - Virtual Use of the Oaklander Model in a Time of Crisis with the Online Sandtray & Dollhouse with Karen Hillman Fried, Psy.D., M.F.T.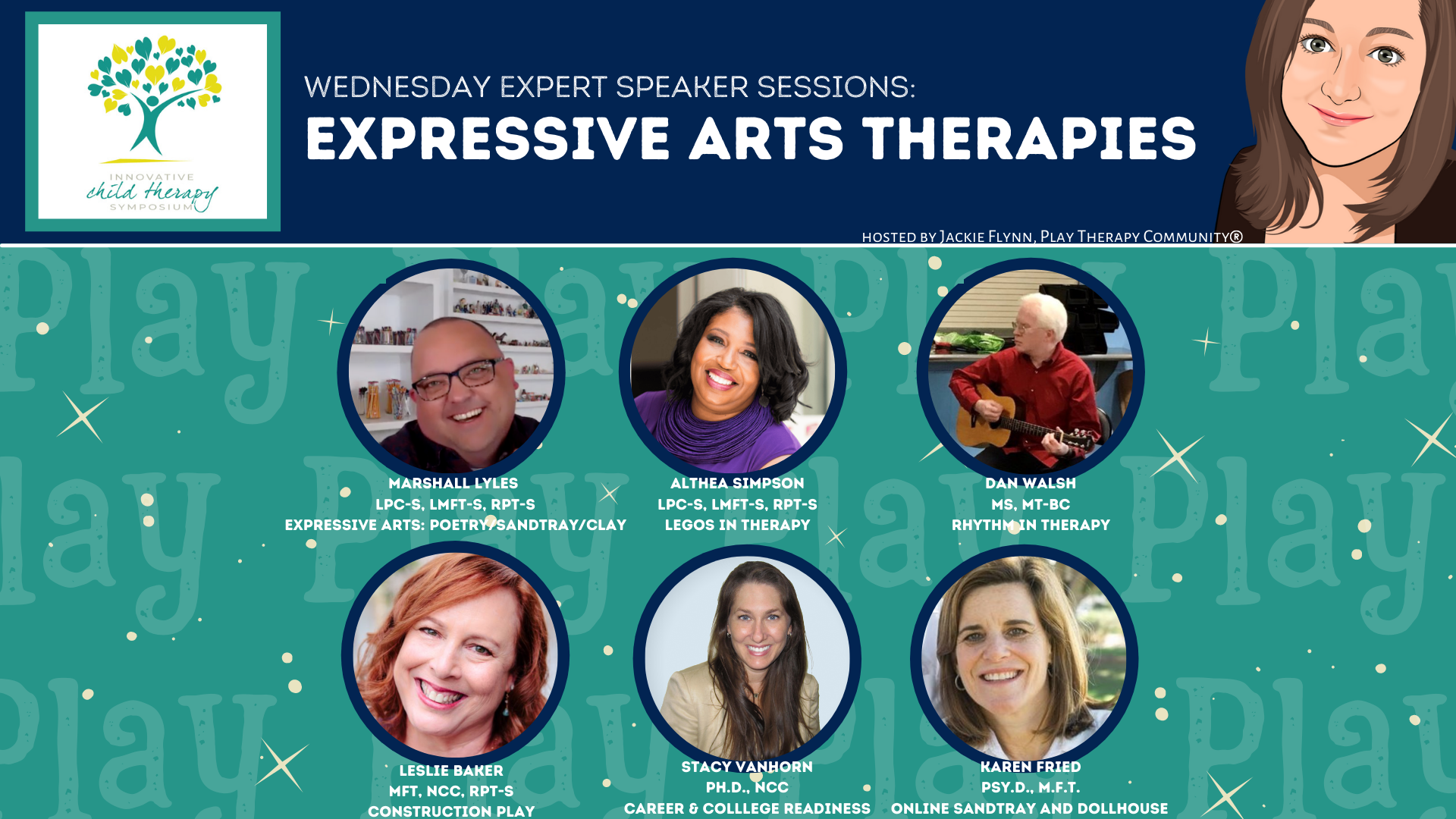 Thursday: Understanding the Developing Brain
— Understanding How Trauma Presents in Children and Adolescents with Debra Wesselmann, MS, LIMHP
— The WISE Method to Teach Children & Parents About the Brain with Amy F. Parks PhD, ACS
— Supporting Children's Somatic Awareness through the Felt Sense of Emotions with Jackie Flynn EdS, LMHC-S, RPT
— Braindrops: Applying our Understanding of the Neuroscience Behind Co-Regulation with Judith Norman, MA, MS, LPC, RPT-S
— Sensorimotor Psychotherapy with Kids: a Body-Based and Bottom-Up Approach with Pat Ogden, Ph.D and Bonnie Goldstein, LCSW, Ed.M., Ph.D.
— Supporting Children's Somatic Awareness through the Felt Sense of Emotions with Jackie Flynn EdS, LMHC-S, RPT
— Helping Children Understand How their Brain Works through the Handy Model of the Brain with Jeanette Yoffe, M.A., M.F.T.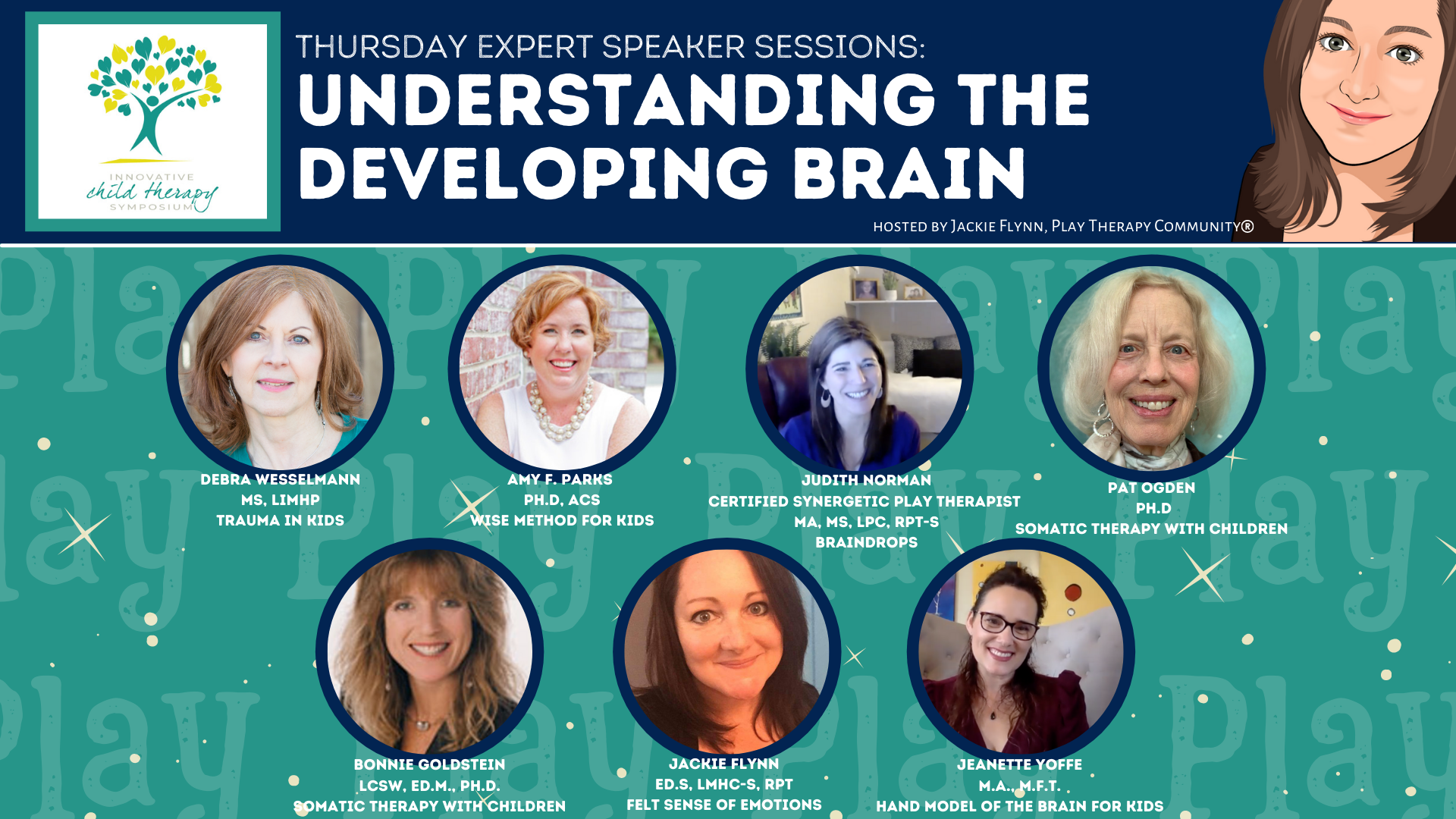 Friday: Play Therapies
— Virtual Sandtray Therapy with Jessica Stone, Ph.D., RPT-S
— Online Play Therapy with Rachel Altvater, Psy.D., RPT-S
— Adlerian Play Therapy with Dalena Dillman Taylor, PhD, LPC, LMHC, RPT
— School-Based Therapy with Teresa Lawhead, M.A., LPCC-S
— Supporting Adoptive and Foster Families through TheraPlay® with Mandy Jones, LCSW, RPT, JD
— The Oaklander Method: Violet Describes the Rosebush Technique with Violet Oaklander Ph.D, Martha Oaklander, Ph.D. (Violet's daughter-in-law), and Karen Fried, Psy.D.,M.F.T.
— On Documentation: Writing Quality Play Therapy Progress Notes with KatySue Tillman, Ph.D.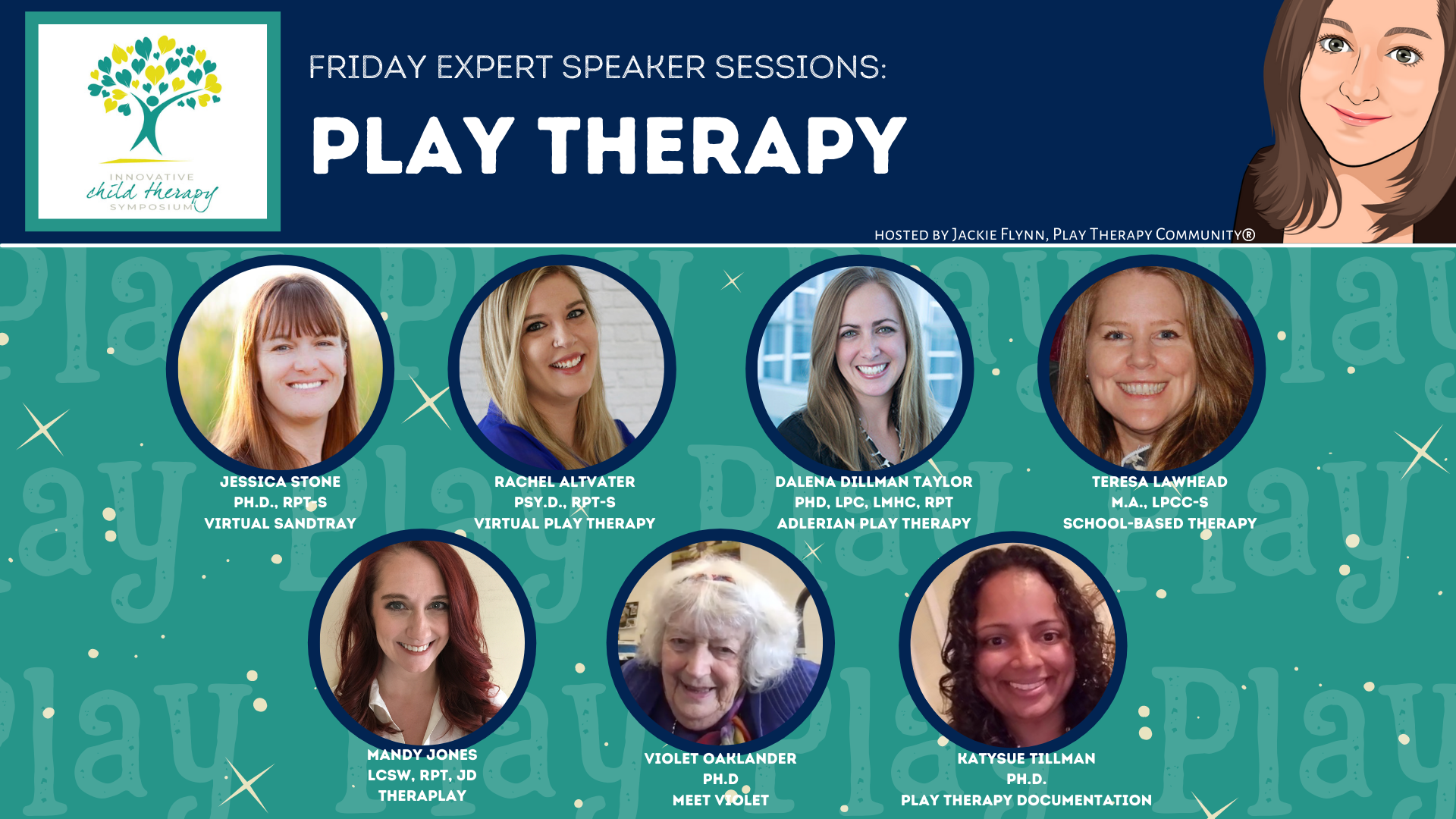 Your Instructor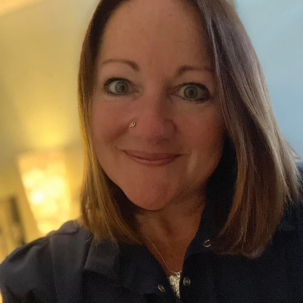 Jackie Flynn, EdS, LMHC-S, RPT is the founder and director of Counseling in Brevard, is a Licensed Psychotherapist, Registered Play Therapist, Trauma Therapist, Couples Counselor, Education Consultant, and Parent Coach. She is the creator of the following imagery books: Jackie Feels and Animal Imagery: EMDR Inner Resource Development. Her passion for helping children and families in a variety of settings inspired her to open a private practice group in Cocoa Village Florida where she provides caring, thoughtful counseling and therapy to individuals of all ages, families, couples, and groups.

As a proud veteran of the US Army, a Give an Hour Provider, and a Certified EMDR Therapist and EMDRIA Approved Consultant, she is passionate about helping people heal from traumatic experiences and move towards a happier, healthier life. She has special interests in Anxiety, Depression, Adoption, Grief, Relationship Struggles, Learning Disabilities, and Attention Deficit Disorder.
Jackie earned an Education Specialist degree in School Counseling from University of Central Florida and Graduate Certificates in Play Therapy and Nonprofit Management. Prior to her current work at Counseling in Brevard, she was honored to be the School Counselor at Sculptor Charter School in Titusville, where she currently serves on the Board of Directors as the Parent Representative. Jackie is also the creator and host of Play Therapy Community and Parenting in the Rain Podcasts, downloaded over 160,000 times in over 50 countries.
Frequently Asked Questions
When does the course start and finish?
The Therapist Extraordinaire Pass offers forever access. Watch videos and download the bonus materials wherever and whenever.
How long do I have access to the course?
How does lifetime access sound? After enrolling, you have unlimited access to this course for as long as you like - across any and all devices you own.
Does this program offer Continuing Education Credits?
This program has not been submitted for approval by any professional organizations. A Certificate of Completion is available for those that complete 100% of the symposium sessions. Some organizations may or may not approve credits depending on their policies and procedures. Last year, some educators and various discipline were able to attain credit from their professional affiliate. Participants pursue approval for continuing education credit on their own.